Interesting articles
Design trends: Hardwood flooring
By

Style at Home
Photography

With so many styles in hardwood flooring to choose from, here are four great looks to help you get started.

Looking to install a new

hardwood floor

? There are more looks available than ever before, so we've narrowed them down to our favourite four trends.


1. Grey plank flooring




It's no secret that grey has garnered many admirers, so take your best-loved neutral to the floor with this extra-long and extra-wide plank

flooring

.

2. Classic chevron in walnut


Très chic, non? This classic

chevron design

is timeless in versatile walnut and ideal for a fashion-forward pied-à-terre or a grand estate

3. White oak flooring


Favoured for its light, airy feel and streamlined look – a result of the rift and quarter cut that limits rings and knots and creates a more uniform board – this white oak flooring is great for

contemporary spaces

with a designer edge.


4. Deep-smoked engineered hardwood


These deep-smoked and limed engineered planks provide loads of texture with their high-contrast graining – perfect if you want a sophisticated floor that makes a statement.


Faux bois
Hardwood floors

are costly and isn't right for all projects, so where wood won't work, such as in moisture-prone

bathrooms

or when budget reigns, look to alternatives like laminate or porcelain tiles that appear so true you'll swear you're stepping on the real thing.



1 Porcelain


Ambiance porcelain tile in Noix.

Antica Tile & Stone, from $11 per sq. ft

.



2 Laminate


Fausfloor Cosmopolitan Collection

c

ottage oak laminate flooring in white.
Innovations in Flooring
Carpet and Tile Made from BioBased Materials
Manufacturers are updating their product lines with renewable, plant-based materials.
Throughout the last decade, flooring manufacturers have embraced sustainability as a catalyst for reducing waste; improving manufacturing processes; and developing innovative, more environmentally friendly flooring options. As a result of these efforts to minimize environmental impact, the standard synthetic raw materials utilized in the flooring of years past are now being replaced (or used in conjunction) with unconventional, biobased plant materials, such as corn starch, soybean oil, and castor bean oil.
Made from renewable resources, these biobased plant materials impact multiple aspects of the product life cycle: they are typically harvested close to production facilities in order to reduce the carbon footprint, result in fewer greenhouse gas emissions, require less energy to produce, and potentially save the manufacturer and the end user time and expenses associated with permits, compliance, and disposal throughout the life of the product. (They are less toxic than synthetic materials, as well.)
Carpet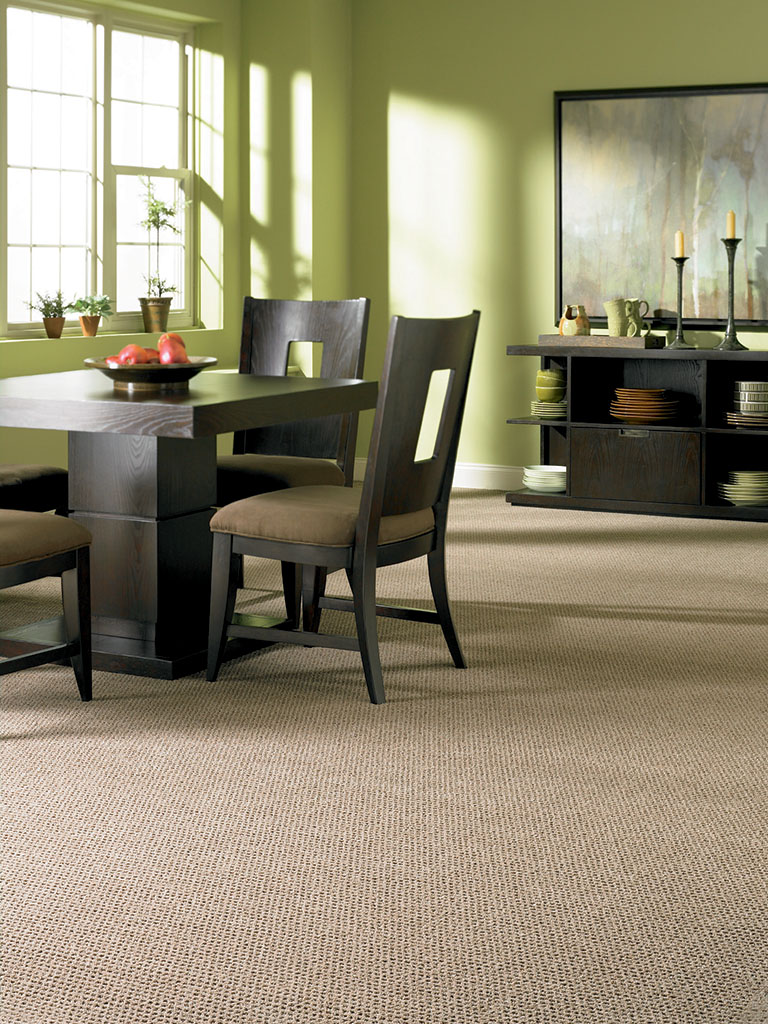 Since the early 2000s, manufacturers have utilized biobased technology in the engineering of carpet for both residential and commercial environments. The overarching challenge has been to find a way to achieve the same level of affordability, durability, stain protection, softness, and aesthetics associated with nylon-based carpets using biobased polymers comprised of plant matter.
One of the first manufacturers on the biobased carpet scene was Interface, who launched a line of hybrid nylon-biobased carpets in 2004. The products contain polylactic acid (PLA) fibers, a commercially viable plastic derived from corn and other starchy agricultural plant materials and waste products.
In 2007, Mohawk Industries partnered with DuPont and introduced SmartStrand with DuPont Sorona™, a line of residential flooring made with renewably sourced polymers derived from corn sugar. The technology uses 37% content from renewable sources, rather than petroleum, which helps to reduce dependency on oil, reduce the emission of greenhouse gases, and lower energy consumption. According to a Mohawk press release, the properties of DuPont Sorona are chemically consistent with petroleum-based fiber, allowing for both performance and environmental benefits.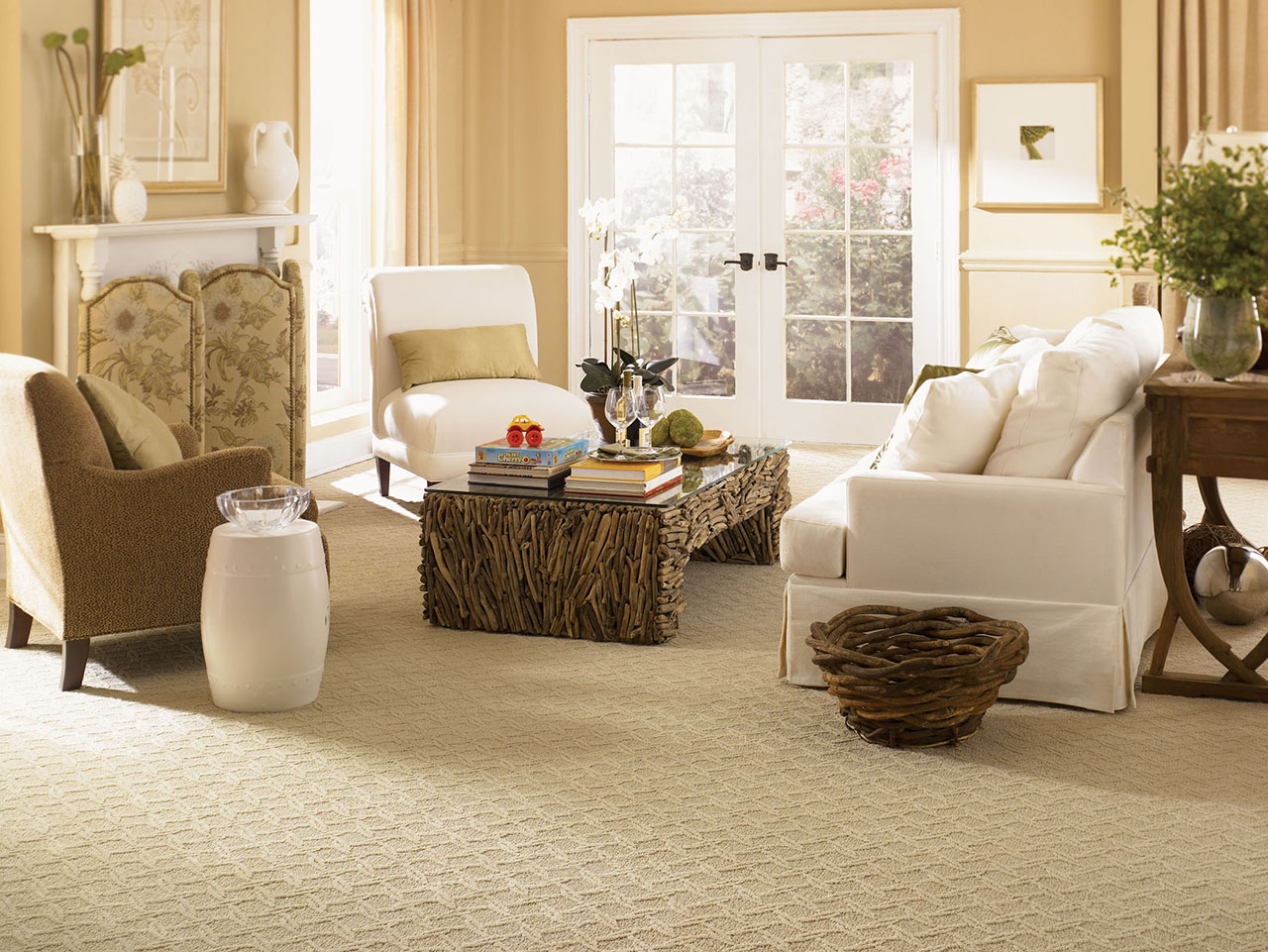 In 2010, Invista introduced Antron Bio_Legacy with TruBlend fiber technology, the first dyeable carpet fiber with biobased content designed specifically for commercial market applications. The product contains up to 25% pre- and post-consumer recycled content, as well as 10% biobased content derived from castor bean oil.
Also on the market in 2010: Tandus Flooring collaborated with NatureWorks, LLC, a division of Cargill, to introduce Genesis, a sheathcore fiber technology with the commercial performance and aesthetics of nylon. The technology utilizes 15% biopolymer content encapsulated within an 85% nylon outer layer. The biobased content is derived from annually renewable plant sugars from non-food stock, which uses less energy and produces fewer greenhouse gas emissions than nylon. Available in yarn-dyed or solution-dyed options, Genesis is primarily custom-ordered for large commercial environments.
Tile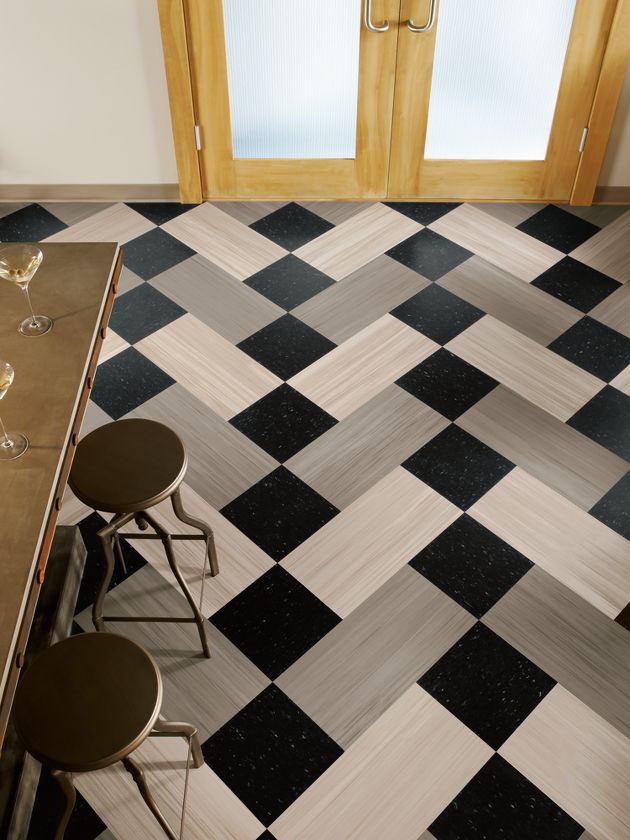 As with carpet manufacturers, tile companies are also now engineering products that utilize biobased plant materials. For example, in 2007, Armstrong introduced Migrations BioBased Tile®, a commercial line of non-PVC, affordable biobased tile flooring. The tile contains BioStride polymer, which is made from rapidly renewable, U.S.-grown plant materials. In addition to being sourced from rapidly renewable materials, the tile contains 10% recycled content, produces low-VOC emissions, reduces dependence on petroleum and fossil fuels, and can contribute to LEED credits.
Earlier this year, Armstrong expanded its biobased tile offerings to include STRIATIONS BBT, a collection of stylish non-PVC tile. In addition to the BioStride polymer, STRIATIONS BBT is made with 85% natural limestone and 10% pre-consumer recycled content. The product design features a 12" x 24" linear format that allows for multiple interior design options and was inspired by the natural qualities found in ancient stone and time-weathered wood. In addition to its design appeal and environmental benefits, as with the company's original Migrations BBT product, STRIATIONS BBT offers twice the indent resistance and five times greater impact resistance than standard vinyl commercial tile.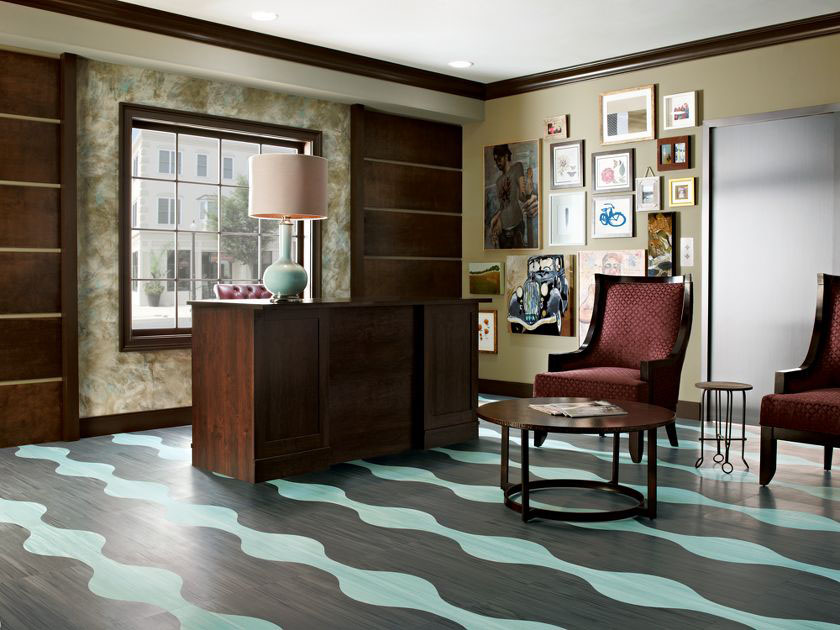 According to Armstrong's web site, more than one billion square feet of composition tile is installed every year, making it the largest product category in the hard surface flooring industry, thus the company's concerted focus on bringing biobased technology to the commercial tile category.
"We continue to research and develop new products that have reduced environmental impact while improving the performance of our products," says Julianne Pierce, director of marketing and product design with Armstrong. "These new introductions increase the selection of products that meet the cost, performance, and environmental criteria of our contract customers."
As technology continues to evolve, biobased flooring products are expected to become more prevalent in both residential and commercial environments.
Mineral Fiber Ceilings

Mineral fiber ceilings are Class A fire-rated, compatible with standard Armstrong suspension systems and perimeter trim, available in a broad range of textures, sizes, and colors, and are recyclable at the end of their useful life.
Look photoes on our Facebook page: https://www.facebook.com/futurarestauri
Fabulous flooring By Heather Camlot
Today's market offers lots of choice. Narrow down your selection and find the flooring that's just right for you.
Do you dream of having a Tuscan kitchen, a country den or a luxurious bedroom? Great flooring helps to achieve the look and feel you desire in every room of your home.

"Flooring is a background to your furniture," says Anna Merotto, an interior designer and former instructor of wall and floor coverings at George Brown College in Toronto. "It can make or break your decor."
But selecting flooring can be a daunting task. A room's function, traffic and location, as well as the amount you can spend, are all contributing factors in your flooring decision, be it carpet, ceramic tile, hardwood, laminate or vinyl. Which one is right for you? Here's a look at the most popular flooring options for your home.

Carpet
Carpet keeps feet warm, steps soft and kids' knees protected when they take a tumble. It hides sub-floor irregularities and can be used throughout the home, including the basement, where moisture can ruin other types of flooring materials. It's also inexpensive to install and comes in a variety of colours and textures, making it easy to decorate with.

Carpeting should be short and dense, made with a tightly twisted yarn and a good quality cushion to resist crushing and matting. To reduce the risk of pilling, look for continuous filament nylon (CFN), which begins as a long strand before being spun into yarn.

Keep in mind that dust particles can easily be trapped in carpeting, says Anna. So, if you have allergies, carpeting may not be the best choice for your home.

Ceramic tile
Because of its dense composition of clay, minerals and water – and a coating of liquid glass for colour and texture – glazed tiles are resistant to moisture, odour, fire, stains, scratches, allergens and bacteria, making this material ideal for kitchens, bathrooms and entranceways. Shiny, glazed tiles should be restricted to walls as the surface can be slippery and can scratch easily when used underfoot.

Laying ceramic tile can be a lengthy and costly process. "Floors have to be completely level," says Anna. "If not, you'll have cracking that you can't repair." It can be tricky to restore eroded or discoloured grout between the tiles.
Hardwood
Hardwood is certainly one of the most beautiful flooring choices, and can, at once, give a space a rustic or elegant feel. It can also wear out in high-traffic areas, especially if you have pets. If you truly love hardwood, sanding and refinishing it every few years is one option, says Anna, as is placing an area rug or runner "so you get the best of both worlds – the comfort feeling of carpet and the classic look of wood."
Hardwood flooring comes in classic 3/4-inch solid wood floors, usually made from maple or oak, as well as engineered and longstrip plank floors, both made from a variety of domestic and exotic woods. All three look similar, but because engineered and longstrip planks are made from thin strips of wood glued together, this option provides better stability and resistance to moisture – which means it can be used in basements or over concrete, where solid wood would contract and separate.

Laminate
If you love the look of hardwood, tile or marble, but can't afford or maintain these finishes, you may want to consider laminate. The Swedish import can resemble any of the materials since it is simply a photograph under a clear wearlayer – and therein lies its biggest fault. For Anna, the inexpensive alternative is "almost too perfect."

That said, laminate is almost impossible to stain, scratch or burn, and because it is a collection of interlocking planks or squares glued to one another – and not the floor or subfloor – it is easy to replace and is moisture-resistant.

Vinyl
With its easy maintenance, resistance to stains and spills and ability to hide scratches, vinyl has long been the number one choice for kitchens. Perhaps it has also been the ugliest – but newer offerings of this material are more hip, with a dynamic selection of colours, patterns and textures.
Source: styleathome.com
Changing Flooring: Picking Floors is Now A Personal Choice
Different Floor Styles Reflect Your Tastes

Like clothing and hairstyles, flooring trends also come and go. Changing ideas and perceptions determine not only what is beautiful to wear, but also what is beautiful for the home. Floors are one of the first things to reflect changing standards, being as it may that floors cover a great expanse and is responsible for a large part of a home's appearance.
Changing Aesthetics

Floors may very well reflect the changing standards of how a home should look over the years, but these restrictions have been relaxed. Today, how a home looks is a reflection of the homeowner's needs and preferences.
These days, flooring preferences somehow depend on the environment in which the home is in. Homes in tropical climates may almost always have hardwood or bamboo floors, the better to complement the surroundings. Homes in more temperate climes may prefer carpeting or tile flooring. The homeowner may also want a more luxurious look to his home, thus settling on marble or granite, or exotic hardwoods. Whatever the choice, it is really still up to the homeowner to decide.
Laying Out and Choosing Designs

For added flair, you may also want to be adventurous and try floors that allow for personalized designs. Through the use of modern techniques employing lasers and water-jet technology, let your imagination run wild as you design the floor of your dreams. These designs can be used to break up the monotony of large tiles or floor boards. French pattern tiles, or mosaics are great accent pieces for floor designs of all kinds. Or a choice of two or more types of wood flooring, laminate floors, or tile can make for a striking, customized layout.
When laying out your flooring, you may also want to consider laying larger pieces diagonally as this gives the illusion of expanse and will somehow make the room seem larger.
Source: builddirect.com
Creative & decorative new lime plaster wall finish styles
The decorative finish of a natural limed-based plaster can be used on interior and exterior wall surfaces. The surface is smooth and lustrous, with a lot of depth. Various effects can be obtanied with different techniques and materials.
Polished plasters (glossy): Traditional marmorino, Modern marmorino, Salt & Pepper, Stucco Grassello, Faux marble, Spatulato Veneziano, Tadelakt.
Rough plasters (matte): Marmorino Velvet, Dilavato, Intonachino, Pitted, Pitted velato, Lime paint, Travertine, Sgraffiti, Terranova.
Special finishes: Marmorino with Mother of Pearl, Marmorino with glittering,Marmorino with terracotta grains, Metallic Marmorino.
Source: http://www.stuccoitaliano.it/
Natural Marmorino on floors
There are many examples of lime-based plaster floor applications in keeping with the Venetian tradition. Starting with this antique technique, we have combined an application technique with a material to achieve an excellent compromise which retains the esthetics of antique marmorino while adding the durability modern day living demands.
This finish is suitable for use in areas where you want natural materials and simple lines. For this reason, it's ideal for a miminalist environment because of smooth, uninterrupted continuity.
Natural Marmorino is suitable for any area
Bathrooms, kitchens, stairs, hallways, or bedrooms. Care must be taken to avoid damaging it as you would for any other floor made of wood, tile or soft stone. It is naturally non-slip surface, but special anti-slip treatments are possible. It has a smooth, lightly polished finish which has a transparent look. Cleaning is extremely easy.
The final effect depends on the protective treatment. Linseed oil gives it the most natural appearance and is the more common final treatment. A polyurethane varnish gives the surface a stronger finish which is more difficult to scratch and can have a satin to glossy finish.
Source: stuccoitaliano.it